So the holiday madness is behind us and all that's left is the clean up. Yeah, that's the part nobody really likes. I'm the person who likes to have everything cleaned up and put away by the end of the day on January 1. It doesn't always work out that way, but it's my goal. Not that I'm ready for the pretty sparkling lights to go away – because I'm not – but because I usually have an entire day on January 1st with nothing pressing to do, so I undecorate before the madness of "real" life settles back in.
However, today's post is still about Christmas. I've done similar posts in the past, but I'm doing it again this year because it's just so darn much fun. I love reading letters to Santa. Our little home town newspaper prints pages and pages of letters to Santa from kids of all ages. Some are cute, some are heartwarming and some are just down right weird.
So, without further ado, here are some of the letters that made me snicker out loud:
"Dear Santa, for Christmas I wont remote control car & polo shirt." A polo shirt? Really? That's kind of unusual for a first grader dontcha think?
"Dear Santa, for Christmas I want a blue truck with a brbe in it." I love that this little girl is very specific with the color of her truck request. The Barbie can apparently be any color, but the truck must be blue.
And Ashlie, who is even more demanding bold in her request for a ". . . dirt rocket electric motocross and make sure it's pink." Gracious. What happens if Santa mixes up the houses and she accidentally gets the red one?
Both Aleigha and Briana want pet fish. Go figure. Pet fish?
Jazzie ". . . rely want some slime," and Braylen wants, among other things, ". . . wods of cash." I'm with that Braylen.
Lots of kiddos want hover boards and Xboxes but little Josh was very specific in that he "wants a huver board. . . " but he "needs a walkie talkie." I wonder which of those things Santa brought?
Little Damon, a third grader, writes: "Dear Santa, For Christmas, I want a basketball. I have been very good!" I sure hope Damon got his basketball. I mean, that's all this kid wants for crying out loud. Get him a freaking basketball.
This little second grader, who apparently wants to remain anonymous because there's no name, only wants ". . . 3 things. A predater, a jaguar, and a komodo dragon." I think I know why this kid wants to remain anonymous. Good Lord what in tarnation are they going to do with those 3 very unusual things? Are they starting their own zoo?
Hayden, also a third grader, asks for some sports related things then goes on to justify his requests. "I have ben good but kindy bad. I have ben good enough to get toys." Whew. He was just barely good enough to get toys.
Little Cordell wants a cookie jar. (You're killing me.) Corwin wants a calendar. (Really?) Someone wants some Twisted X shoes, whatever those are. And God bless little Scarlett, who loves Santa's "randeer," assures him she's been good but that, ". . . I bo not need one mar presis." Awwwww.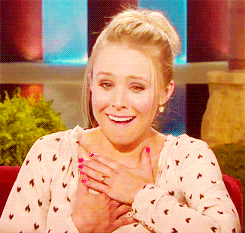 Kennadi wanted a puppy but wrapped up her letter with, ". . . I think you and Mrs. Claus need some silence." Where do these kids come up with this stuff?
This one made me sniff:
"Dear Santa, I like your berd and I need my famaliy to be happy agin on chrismuis time and I want my puppy to come back and her name is rosebud and here she is she is brown and small but lite brown and pritey." For the love of God Santa, please help little Rosebud find her way back to little Patience.
But, this one is probably the most perplexing of them all: "Dear Santa, All I want for christmas is a camera but pleas, pleas, pleas don't give it to me." Say what now? What's up with this chick? I mean, what is Santa supposed to do with this?
So there's my wrap up of Christmas 2018 from Vicksburg, Mississippi. I hope Santa was good to you this year. If not, you'd better start shaping up. You've got 11 months to get your good on.
How was your holiday? Did you or any little ones in your family write cute, sweet, or perplexing letters to Santa? I'd love to hear your stories.
Word of the day: Tontine
Fun fact about me: Reading the letters to Santa is one of my most favorite things to do for Christmas. Seriously, it is. I love it!
Original post by Jansen Schmidt, January 2019. Photos courtesy Google Images and Pexels.
Want even more content, inside sneak peeks and giveaways? Why not sign up for my newsletter: http://bit.ly/2E852XM
On Common Ground is now available at fine retailers everywhere: