So Groundhog Day has come and gone. The most famous groundhog of Groundhog Day history is Punxsutawney Phil from Pennsylvania. This year on February 2nd, Phil was released from his comfy captivity and forced into the wilds of Gobbler's Knob in front of a camera crew and numerous onlookers to look around and predict whether or not spring was about to bust loose around us.
In case you're wondering, Phil did NOT see his shadow which, according to legend means spring is indeed just around the corner. (I cry foul.) Now, had the rodent seen his shadow and scurried off in terror of his own grey likeness, the onlookers would have hung their collective heads and mumbled and complained about having to deal with six more weeks of winter as they shuffled off to their homes.
No mumbling or complaining happened this year on February 2nd. At least in Gobbler's Knob.
The scene was different somewhere else. Milltown Mel, of New Jersey fame told another story. Mel, who has also been giving predictions for the past ten years, disagreed with his counterpart Phil. Mel saw his shadow and promptly crawled back into the loving arms of his handler eager to return to his comfy hidey-hole for six more weeks of R & R while winter howled around his cushy abode.
Not only is Phil a liar in my book, here's something interesting about the events associated with the Pennsylvania groundhog. Did you know that there is a Groundhog Day Club complete with a special group of coat-tailed and top-hatted men called the "inner circle?" These silly guys insist that Phil is NEVER wrong. What they actually mean by that is that the prediction of the arrival of spring is not geographically specific. Therefore spring might indeed be just around the corner for folks in – say – Florida. People virtually everywhere else are blinded by snow and skidding into ditches on iced over or rain-slicked roads. Or building arks as they watch the flood waters steadily rise around them. You say semantics, I say liars.
The winter weather is so bad in fact that places like Malibu California saw snow falling from the sky for the very first time. EVER. The Sierra Nevada Mountains almost have too much snow even for skiing. Breckenridge Colorado saw record snowfalls two or three days in a row. The states surrounding the Great Lakes haven't had temperatures over 25 degrees in days. And then there was this thing called a bomb cyclone which really needs so explanation, it was as bad as it sounds. But hey, Punxsutawney Phil is still considered to be 100% accurate. Yeah, tell that to the people in 49 other states and several other countries.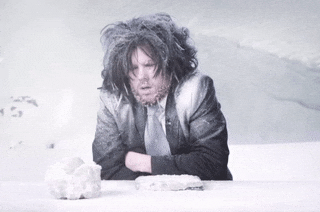 So, while most of us don our heavy winter coats and wool socks, someone, somewhere in Southern Florida is lounging on a beach in flip flops and swimwear wondering where all of the spring tourists are. I'll tell you where they are – snowed in, that's where.
Let this be a lesson to you all. Never trust a groundhog. Especially one that's over 125 years old (that's how long Punxsutawney Phil has been making his predictions, never mind that the lifespan of a groundhog is usually less than 6 years.) Yet another deception from the sacred "inner circle."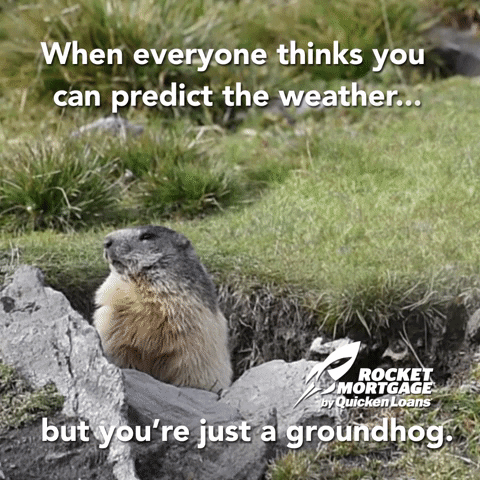 What's the weather like in your hometown? Do you wait with bated breath every February 2nd for the groundhog of your choice to make his prediction? Are you sick of winter?
Word of the Day: Deliquesce
Fun fact about me: I don't like cold weather. Unless I'm skiing, then it becomes a necessary evil.
Original post by Jansen Schmidt, March 2019. Images by Google Images and Giphy.
Want even more content, inside sneak peeks and giveaways? Why not sign up for my newsletter: http://bit.ly/2E852XM
On Common Ground is now available at fine retailers everywhere: