Life is a lot like baseball. I'm not a fan of baseball really, although I did play little league when I was around 12 or so. It was fun. I played second base. I was pretty good. Our team took the second-place trophy the year I played. (I still have my trophy.) I'd like to think it was because of me, but really it was because of our short stop. She was really good. She was the reason we won many of our games. Baseball used to be a normal childhood thing for me.
Anyhoo, the older I get the more I realize there is no "normal," in life. I used to say things like, "I want things to get back to normal," or "when my life gets back to normal, I'll do _____," fill in the blank with just about anything. But there really is no normal. We may have a few days of the same thing, but it really doesn't take much to throw our routine out of whack. And, I don't know about you, but once my routine is messed up, it's really hard to get it back. It's like building a habit. It takes a long time for something to become a habit, but only a day or so to lose it. That seems all wrong and backwards, but such is the case.
So now I just liken life to baseball. You get up every day and you step up to the plate, hoist the bat on your shoulder and prepare yourself for whatever the pitcher (life) throws at you. Some days you're going to swing and miss. Some days you might strike out. Sometimes the ump issues a really bad call and there's not a darn thing you can do about it. Some days you might skate by with a walk. And some days you might hit it out of the park. But, in order to do that, you've gotta swing the bat.
Lately I've been dealt a lot of curveballs and fastballs. I feel like I'm striking out every day. I feel like I'm swinging really hard yet accomplishing nothing. I should at least get to first base right? But first base seems so far away. And some days I can't even see second base.
So, what's going on? Well, in a nutshell, I've had some family upheaval that happened around Memorial Day weekend. My father had an accident with a table saw, which resulted in him losing his fingers. Some were completely gone, some were re-attached, but later lost, and his thumb is still healing. The good news, he's recovered just fine. His thumb will be functionable and he has part of 2 fingers still left. The injured hand is his right hand and he's predominantly right-handed so there is a pretty steep learning curve right now, trying to do things with his left hand, but he's getting there. With some physical therapy, he'll regain use of what's left of his right hand. That's all good news. But it's hard to be the caregiver. Especially since all he really wants to do is go home.
And so I'm swinging at the fastballs, the sliders, the knuckleballs and curveballs associated with all of that mess. It requires a good deal of patience and a lot of tanks of gasoline while I drive him back and forth to doctor's appointments, surgeries, rehab, etc. I've sat a good many hours in cold waiting rooms. I've made phone calls too numerous to mention. And I've had some sleepless nights worrying about how this will all turn out.
It is so hard when a child must become the caregiver for the parent. All the guilt comes pouring out for the sacrifices they made on my behalf growing up; all the sleepless nights they had worrying over me, all the times they sat waiting for me, all the gasoline they consumed driving me around for little league games and hundreds of other things. (sigh)
But, like everything, this too shall pass. He's going to be fine. He's going to go back home soon. Life will return to "normal." My homerun is coming. I just need to keep swinging and hope the umpire doesn't give any bad calls.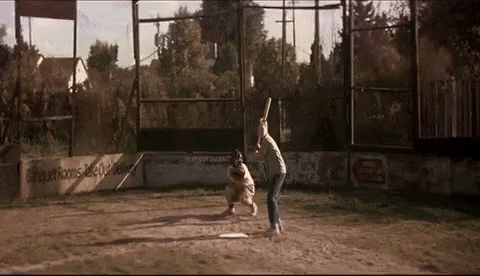 How about you readers, how do you deal with family crises? Are you good and muddling through unexpected upheavals? Do you swing at whatever life throws at you?
Word of the Day: Vacuity
Fun fact about me: I also played volleyball and basketball when I was in junior high, but mostly I warmed the bench in those sports.
Original post by Jansen Schmidt, July 2019. Images by Unsplash, Google Images and giphy.com.
Stay connected with news about my books and other fun stuff by signing up for my newsletter: http://bit.ly/JansenSchmidtNewsletter
My newest release On Hallowed Ground is available for pre-order now: http://bit.ly/2KONmnf
On Common Ground is available at fine retailers everywhere: http://bit.ly/2BBu7bb