Many of you have told me that you like my posts about my odd inn guests. If that's you, you're welcome because today I've got another one. The people who stay here are certainly entertaining at times. There is never a dull moment when you deal with the public. Especially when said "public" often have a warped understanding about what exactly a B & B is.
Are we a hotel? Sort of but not really. Are we a public place? Sort of but not really. Do we provide hotel services? Sort of but not really. It's hard to describe a B & B to folks who have never stayed in one before. A B & B is really just a very large house that rents rooms and provides breakfast in the morning. That's it. No laundry facility. No concierge. No valet parking. What you see is what you get. If you don't see it, it's probably not available.
Some B & B's are owned by a corporation and run by management teams. Some are owned by private parties but run by management teams. Some are privately owned and run by the owners. We fall into the last category, which makes us an even more specialized type of overnight accommodation. We live here. Full time. If you rent a room here, you truly are a guest in my house.
Yes we rent rooms the same as hotels rent rooms. But that's pretty much where the similarities end. We don't have room service. We don't have on-site housekeeping. We don't have a maintenance department. We don't have a front desk. We do provide breakfast but we are not a restaurant. And, most importantly, THIS IS OUR HOME. We. Live. Here. We treat you like a guest. We expect you to act like one. Some people fail miserably at this.
About two weeks ago we had a couple of gals from out of town arrive and check in for 2 days. They were very personable and had lots of questions when they first arrived. I did my best to entertain them and answer all of their questions even though it ate up a lot of my time. Being overly friendly was my first mistake. It didn't take long before they started asking for "extra" things. Nothing weird and nothing that hasn't been asked for by a guest before, but asking for things that we don't offer.
Because it's our home, the house does have a kitchen. But the kitchen is off-limits to guests. Some guests don't "get" this. Some ask for kitcheny things, like utensils, plates, a pot of hot water so they can have tea in the evening. Nothing really weird, but things that would definitely NOT be available in a hotel.
We do our best to comply, but some guests think that because we are NOT a hotel, they can have special stuff. This is where we get back to my chatty girls. They wanted plates and utensils to eat the food they'd brought with them. Okay. I handed over said items. Then they wanted me to heat up their food in the microwave. (sigh) I did because I'm a nice person, but here is where I made my second mistake.
The next day, same thing, only earlier in the day. Can we use the microwave? Can we have plates? Can we have extra wine glasses? Later that same day, after I'd again provided the requested items, both ladies came back from wherever they had been with a third person. A man. Oookkkkaaaay. I smiled and said "hello," but gave them my squinty-eye. No explanation was offered about the acquisition of this new person. A few minutes later they all went into the billiard room and started shooting pool. Hmmm. If you were a guest in someone's home, would you in turn invite your own guests? Especially without asking your host or hostess if that would be okay before you did the inviting?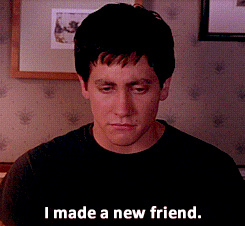 Later that same night, I went upstairs to turn off some of the lamps in the hallway. One of the gals was in their room. The other was out on the front veranda with the man. They smiled and waved. I smiled and waved. Should I ask him to leave? They weren't doing anything disruptive, but . . . . It didn't feel right and it was awkward, but I decided to just go to bed and hope there were no problems. Probably my third mistake, but I truly did not know what to do in this instance since they weren't causing any problems.
The next morning, none of them showed up for breakfast but my husband saw the man loading luggage into their car. The car that the women arrived in. Hmmm. About thirty minutes later I ran into 1 of the gals and the man in the hallway. I asked if they wanted breakfast, even though all of the other guests were already almost finished eating. They both said yes if it wasn't too late. I told them I only had enough food for 2 (because that's how many people I thought I was feeding.) They said that was okay.
Because I am who I am, I said something to the effect of their room being magical because it turned the other woman into a man overnight. They laughed. I asked what happened to the other woman and they said she "had things to do and places to go." Say what? So you go someplace with your girlfriend then ditch her so you can spend the night with a man? That's so not cool.
Anyway, I'm not sure how many people actually slept in that room, or on the porch, or wherever, but I think the whole situation was a little too trashy hotelish for me. I repeat, we are NOT a hotel. Instead of sneaking around, why didn't they just say that one gal was leaving but a man would be staying instead? What would have been so hard about that? They didn't ask for clean sheets or towels or anything and they paid for double occupancy in the room so as long as there were only 2 people there, what's the big deal?  Aside from it being super weird. If the other gal did spend the night in the same room, where did she go? Did I have another disappearing guest? Is there a black hole upstairs that sucks people up randomly?
I have to wonder, if they had been staying at their mother's house, or their grandmother's house, or their aunt's house, or even their best friend's house, would they have pulled the same stunt? I can see – maybe – doing that in a hotel room, but not in someone's house. I'm not even sure if they even knew this guy before they came to town or if he's someone they met the night before at one of our local bars. I've got questions but, honestly, I don't think I want to know the answers.
I'll never figure people out. And, it's all in the past now. It was just another weird guest experience that happened and gave me good blog fodder.
So tell me, what's your opinion about this occurrence? Should I have asked the third person to leave as soon as I'd seen him? I'd love some advice about how you would have handled it.
Word of the Day: Quillwort
Fun fact about me:  I think I need to start staying at some other B & B's to see how they handle things.
Original post by Jansen Schmidt, December 2019. Images by Google and giphy.com.
Stay connected with news about my books and other fun stuff by signing up for my newsletter: http://bit.ly/JansenSchmidtNewsletter
My newest release On Hallowed Ground is available at fine retailers everywhere: http://bit.ly/2KONmnf
On Common Ground is available at fine retailers everywhere: http://bit.ly/2BBu7bb