Well folks, here we are again at the close of another year. Another Christmas to celebrate, to remember, to forget, you choose. This post was inspired because I recently downloaded a bunch of photos from my phone and discovered that I have some really nice holiday photos. Because I'm a giver, I've decided to share my little walk down memory lane with you. Here are some photos from recent Christmases past. Enjoy!
If you'll remember, I was diagnosed with breast cancer in October of 2017. Therefore, my 2017 Christmas was not the most pleasant. I was showered with a huge outpouring of love that year, so the dark clouds didn't hang too low. We did have a really nice tree that year as well, which I managed to get decorated with a little help from some friends. All in all, not worth complaining about.
Christmas the following year was much better, but we aimed a bit too high. We did celebrate at my "happy place," but the trip proved to be a bit too much for my still recovering body. Too much too soon took a toll, but I smiled through it. I mean, I was at Disney World right? Oh, by the way, both my husband and I suck at taking selfies. I was rocking my new curly grey hair then too so there was much to be thankful for.
We also decided to decorate the tree just a bit differently last year, adding some glittery ribbon to the lights and ornaments. And we switched out the angel for the star. Which do you like better – ribbon or no ribbon?
This year, we've continued the away-from-home celebration of Christmas with a cruise to Mexico aboard the Carnival Valor. Terrific get-away with no issues this time around. Again, a less-than-stellar selfie. And, hey, isn't my still-curly hair getting long?
That cruise was immediately followed by a 4-night stay in New Orleans at the Ritz-Carlton!! No, this is not normally how we travel, but we were privileged enough to be invited to a VIP art gala that started the same day we got off the cruise ship. Since it was basically an all-expenses-paid opportunity, we took it. And WOW!! What a weekend it was. Side note, that entire streetcar in the photo below was made of gingerbread. And yes, those are Mickey Mouses on my sweatshirt, thanks for asking. Hey, if I can't go to Disney, I'll bring Disney to me.
And, I couldn't help myself, I snapped this quick photo of the ladies room. It smelled so good in there. Like Christmas. It actually smelled like Christmas all over the entire hotel, but the hand soap and everything in the bathroom were yummy. No paper towels or air dryers here. No sirree. Only little cloth fingertip towels. Very upscale.
So folks, there is a smattering of my life the past couple of Christmases. Yes, 2017 sucked, but this year, more than made up for it with the wonderful opportunity to stay at the Ritz in New Orleans and meet some wonderful new friends. In the new year I'll be posting again about this interesting and unexpected weekend. Here's a teaser, I actually got to paint – with a bonafide artist – on canvas, with a real brush and real paint – a piece of artwork that was later auctioned off for over $5,000!!! Bigger teaser – there's video!! Here's a sneak peek of how it all started. Any ideas what this is a picture of?
I'll see you all in the new year for that fun stuff. Also look for a special edition of my newsletter in January for an interview with moi about my books, my house, my life, etc. If you haven't already done so, you can sign up for my newsletter at the close of this blog post. You won't be sorry.
In the meantime, happy holidays my friends! Please enjoy a safe and relaxing Christmas with your loved ones. Give them all an extra hug this year, even the ones who drive you crazy. Life is short.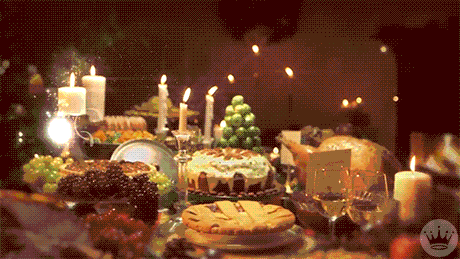 I'd love it if you took a few minutes and told me about a wonderful memory from a Christmas past – or maybe an upcoming Christmas – that you remember or are looking forward to. It's fun to share.
Word of the Day: Pulque
Fun fact about me:  I think cheese popcorn is becoming my new favorite food. Nom nom nom nom. (Note to self: Clean popcorn crumbs off keyboard.)
Original post by Jansen Schmidt, December 2019. Images by Pexels, giphy, various Disney Photopass Cast members, Corey Rickrode and Patricia Rickrode.
Stay connected with news about my books and other fun stuff by signing up for my newsletter: http://bit.ly/JansenSchmidtNewsletter
My newest release On Hallowed Ground is available at fine retailers everywhere: http://bit.ly/2KONmnf
On Common Ground is available at fine retailers everywhere: http://bit.ly/2BBu7bb