So, the daily grind has pretty much come to a screeching halt. Life as we've known it has changed. At least temporarily. And yet, life goes on.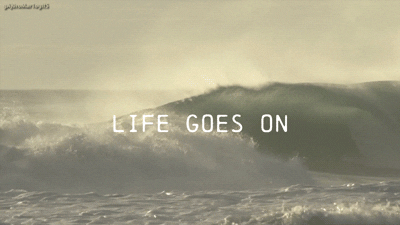 Sure, some of us might be bored, stressed out, or feeling the need for personal space even within their own home, because, let's face it, being in constant contact with your loved ones is not necessarily the healthiest thing no matter how much you love them. And yet, time keeps marching on. Nature keeps doing its thing. Nature takes that thing that's interrupting it and adapts.
Nature doesn't care about quarantines or curfews or toilet paper. Birds chatter, bees buzz, squirrels scamper, flowers bloom, grass grows, wind blows and rain falls. Nature doesn't worry, it just exists. We can all heed the lessons of nature. Learn to exist. Adapt if necessary.
But, not just nature, the bell in the old clock tower at the Old Courthouse still chimes on the hour. My amazing musical clock still tinkles a lively tune at the top of every hour. Paint peels, wood rots, pollen settles, asphalt gets hot from the sun. Gravity keeps us grounded. It's amazing that all around us energy goes on whether we panic and freak out, or calmly sit and relax. It's up to each person to decide how they will react to their circumstances.
Today I'm encouraging you all to be still. Pay special attention to the things around you and know that all is well. Times are hard right now sure, for a lot of people. But so much beauty continues to surround us. So many reminders that we are blessed and alive in a marvelous world. This is the real life. Try to weather the storm in a calm and peaceful environment. You'll thank me later. Here's two and a half minutes of beauty. Enjoy!
How are you keeping your sanity amid this crisis? Has spring made an appearance in your neck of the woods? Are you able to get out and soak up some sunshine? I hope so. It'll do you a world of good.
"Be still and know that I am God." – Psalm 46:10
Word of the Day: Fascine
Fun fact about me: I'm enjoying a life of leisure more than I thought I would (I used to think I was a workaholic).
Original post by Jansen Schmidt, April 2020. Images by Google Images and giphy.com. Video by YouTube (MirandaV – Music of Nature)
Stay connected with news about my books and other fun stuff by signing up for my newsletter: http://bit.ly/JansenSchmidtNewsletter
My newest release On Hallowed Ground is available at fine retailers everywhere: http://bit.ly/2KONmnf
On Common Ground is available at fine retailers everywhere: http://bit.ly/2BBu7bb