I'm not really a cat person. Never have been. There's just something kind of creepy about cats. I think it's their eyes. Or the way they think they own the world. I don't know, I've just never felt a connection with a cat the way I have with dogs or horses or baby goats.
But, since our old dog passed on, we've noticed an uptick in the presence of local feral cats around the yard. About a year ago we had this little black cat, a tiny little thing, that was obviously pregnant, hanging around on our porch. She was a little skittish but eventually kind of warmed up to us being on what she felt was her porch. Because she was pregnant we took pity and started feeding her. She never allowed us to touch her, but she would approach when we had the food dish. She even permitted us to sit on her porch when she was napping but if we came too close, she'd run off.
When her baby – I think she just had the one – was about a month old, she started bringing it with her up on to the porch. I don't know where she was hiding it but one day it just showed up. It was cute little thing. We'd watch from the window as they played, ate, and slept together. I guess now we've officially got two cats.
As time went on, we got bolder and attempted to befriend the kitten. It was the more curious of the two. It had always been our intent to catch both momma and baby and take them to the vet to be spade. It never happened with the momma, but the kitten eventually started approaching us and finally even let us pet her. Huzzah!
One day, my husband got brave and picked the little runt up. She fussed a bit but didn't bite or scratch. My husband only held her for a couple of minutes before releasing her, but that was the start of our attempts to become more than just food providers for this cat. It was time we got something out of the deal. Like some affection.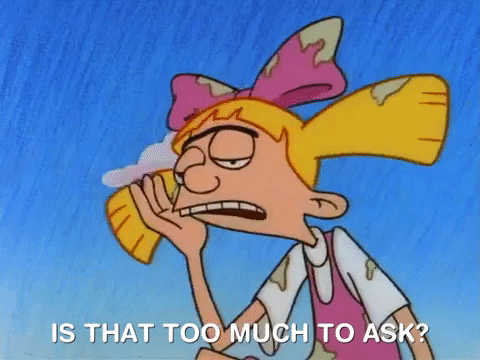 The black momma cat continued to come around as well, but as the baby grew, they started fighting over the food. So, because the momma was never very friendly and the baby was becoming our "friend," we would only put the food out when the little grey-striped baby was around. I can't have hissing and spatting cats on the back porch when guests are coming and going. Both cats would run off when anyone except me or my husband were on the porch.
Fast forward to about a month ago. Baby cat was starting to get bolder and even approached us when we went outside, meowing for attention. She loves to have her ears rubbed. She trots up to us like a real pet might do. One day my husband was sitting in one of the rockers on the porch and the little gal jumped up into his lap. And stayed there. Shocker. She still wouldn't let me hold her. I could pet her, but not hold her. If I picked her up, she immediately jumped back down. I think she knew I'm not a lover of cats.
Anyway, about that time we noticed we were overfeeding her. Every time we went outside she cried for food and paced in front of the door until we gave in and sat the dish down. Every. Single. Time. She was pretty insistent. So, we always gave in and fed her. Again. Every. Single. Time. Can you say suc – kers?
Well, on Friday, the 3rd, my husband got really worried that something had happened to her because she didn't show up most of the day. He even went into the back yard a couple of times and called for her. Nothing. We live on a kind of busy street so we thought the worst. Until late that night when she showed up on the porch crying for food. Because it was getting late, we just put the food out and went to bed.
The next day, my hubby and I were both sitting on the porch, soaking up some sunshine and reading, when lo and behold, the cat jumped right up in MY lap, curled up and went to sleep. What just happened? She'd been gone for a whole day then – suddenly I was her best friend. No encouragement from me. Just – bam – hello, I'm here to sleep in your lap. She stayed there for a very long time.
Later that night my husband went on the porch to feed her and she was laying right outside the back door, on the scratchy doormat, with a little lump of fluff next to her. My husband called me to the door and said, "I think I know where the cat was yesterday."
Um hmm. And why she was getting fat. I told you, I don't know anything about cats. She's a small cat and she looked like she was gaining weight, but I assumed she was too young yet to have babies. Boy am I am an idiot. And – where the heck has that tiny little baby been all day while momma was napping in my lap? Was it warm enough? Was it hungry? Was it afraid?
"Well, we can't just leave her right there in plain sight with no protection," I told my husband. He asked me why, reasoning that the cat obviously felt safe there.
But, she's a new mother, what if she doesn't have good motherly instincts? I don't want an old Tomcat or a possum or raccoon or something to run off with her baby.
Neither of us was real keen on touching the newborn for fear that the little momma would reject the baby, so we decided to just leave her alone for the night and suffer whatever consequences were in store for us in the morning. Nature right? Besides, I don't like cats remember?
Sunday morning, my husband got up and looked out the back door and sure enough, momma was still there, but this time she had 2 little lumps of gray fur nestled against her belly. Say what? Where was the other one all day yesterday and Friday? Why did she leave one all by itself ALL DAY?
So, my husband found a box and put an old towel in it and when momma got up to eat her breakfast he very carefully used the corner of the towel to pick up the babies and put them in the box. We kept checking on them throughout the day and all seemed well. Later that night we came up from the basement (where we had been watching TV) and started our it's-time-to-go-to-bed routine only to discover yet another little lump of fur in the box.
THREE?!? What in the H E C K is going on? Where is she getting these kittens from? Where have they been? Why care for one all day, but not the other two? And then 2 the next day but not the other 1? How many more are coming? And just how long can a newborn kitten survive without its momma? I really don't understand cats!!
So, as of the day I am writing this post, we have 3 tiny kittens in a box on the porch outside our back door. Momma has food and water and we change the towel in the box once a day. Everybody seems to be doing fine. We even touched the little ones just a tad while they were nursing. Momma seemed absolutely fine with us hovering over them all.
I guess we've been officially adopted. And, just like that, we now have 5 cats. Note to self: Make appointment with the vet to have momma spade. No more surprises. What am I going to do with these babies?
Have you guys ever been surprised with the appearance of unexpected babies in one form or another? How long do we have before this little girl goes into heat again? I am sure this little momma is not even a year old yet. Good grief. I've got questions.
Word of the Day: Gudgeon (this one has several varied definitions)
Fun fact about me: My hair is longer now than it's ever been in my entire life. And only two years after losing it all too. That's kind of amazing.
Original post by Jansen Schmidt, April 2020. Images by P. Rickrode, Google Images, Pexels, and giphy.com
Stay connected with news about my books and other fun stuff by signing up for my newsletter: http://bit.ly/JansenSchmidtNewsletter
My newest release On Hallowed Ground is available at fine retailers everywhere: http://bit.ly/2KONmnf
On Common Ground is available at fine retailers everywhere: http://bit.ly/2BBu7bb