I think it's fairly safe to say that every writer at one point or another has imagined one of their books becoming a movie. I know lots of authors already have experienced this on small "made-for-TV" stations, like the Hallmark Channel, etc. and those are always fantastic. In fact, Harlequin has created their own television network specifically for producing movies based on the millions of Harlequin books already in existence. They are also looking for new script writers I hear.
But, I digress. The movies I'm talking about are the huge block-buster films made from novels written by plain old folks like moi. The Harry Potter films or the Jack Reacher films. You know, those films. The ones that bring in billions of dollars at the box office.
Now, of course, I would play the heroine in every single one of my movies. Just not me as me. You know – not this me (taken about a year and a half ago when I still had the pure white super curly post-cancer hair):
No. I'd play me but I'd look like some glamorous sexy bad-ass made up version of myself. For instance, if my first book On Common Ground were made into a movie, I'd play Ketra. Let's face it, I'd have too. No one else lived inside that character's head longer than I did. I'm the perfect fit for the role. But, I'd look something like this:
If I had to choose an actress of Hollywood fame to play the role, I'd probably choose someone like Aly Michalka – the blond version – or Bojana Novakovic – again the blond version.
Aly Michalka is probably most known for her stuff on the Disney channel and as one part of the musical duo Aly and AJ (her sister). I fell in love with Bojana Novakovic when I watched her on the short-lived television show "Instinct." I loved her spunk and deadpan comebacks. She's my kind of girl.
Now, for my leading man, Trevor, I'll show you what photo I used when describing him in my book:
In the movie version of the book, it would have to be Ryan Paevy. (I LOVE him!!)
For quite a while he was a regular on General Hospital but I fell in love with him from the Hallmark Channel, where he is often cast as the distinguished leading man. He's yummy. And don't you think he bears a striking resemblance to the photo I used when writing the book? When I started that book, I had not yet been introduced to the deliciousness that is Ryan Paevey. When I saw him for the first time on TV, I said to myself, "Self, that there is Trevor Donaldson come to life." And, with me as the leading lady . . . well how cool would that be? Hey – it could happen.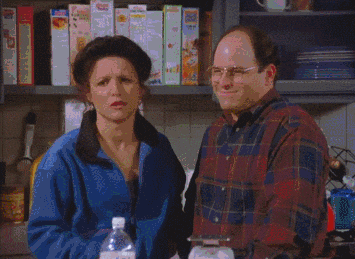 For those of you who've read my book, who would you cast in my leading roles? I always wonder what images come to mind when people read my book. I try to provide some description, based on how my mind sees my characters, but I never know what images come to mind when readers formulate an picture in their brain. I'm curious who you'd cast for the film.
For my writer friends, who would play the leads in your books? For my non-writer friends, who would play you in the blockbuster movie of you? Don't be shy, I really want to know. As far as who would play me? I see Julia Louis-Dreyfus playing me. In my younger days lots of people said I looked like her. I think she also has a similar personality, at least from what I observed on Seinfeld. I can totally see me doing what she's doing in the gif above, too.
Word of the Day: Linguiform
Fun fact about me: I've discovered that the more I learn, the more I really don't know. Moral of that story: stop learning things. Maybe I'll become smart again.
Original post by Jansen Schmidt, May 2020. Images by C. Rickrode, Google Images and giphy.
Stay connected with news about my books and other fun stuff by signing up for my newsletter: http://bit.ly/JansenSchmidtNewsletter
On Hallowed Ground is available at fine retailers everywhere: http://bit.ly/2KONmnf
On Common Ground is available at fine retailers everywhere: http://bit.ly/2BBu7bb