We've seen a lot of people come and go here at The Baer House and with those people come things, personalities, stories and vehicles. We've seen motorcyclists traveling in packs. Bicyclists on week-long adventures across Mississippi. Vans, motorhomes, campers, people with trailers, boats, and even on a couple of instances, people with no vehicles at all. Those "special folks" require their own entire post involving airplanes, taxies, busses and limousines. Let your mind wander.
But the thing I see quite often that always amazes me are the old dudes in humongous trucks. You know the kind I'm talking about? Ram 2500. Ford F-350. Long beds. Extended cabs. Dual axles. Side mirrors sticking out like Texas longhorns. Big ass trucks. These trucks are hugely popular down here in the south. I'd bet a little more than fifty percent of the southern population drives one of these big old beasts. Young men drive them. Women drive them. Workers drive them. Families use them on a daily basis.
In California it was common to see these trucks for contractors or ranchers, but nobody could afford the gasoline or diesel to drive them around all the time so we saw more and more smaller, fuel efficient cars filling up the roads. Not to mention the hybrids and electric models. But here in the south, BIG trucks is a thing. The bigger the better.
So, a lot times we get guests pull into our driveway in one of these monstrosities and it is really sight to behold when you watch them try to park. The old dudes in particular seem to have no clue how to go about the process. I often wonder why they paid a small fortune for a vehicle that they cannot properly handle. I understand these trucks have a lot of power and sit up high and give the driver a sense of safety while on the road. But sometimes I think these old geezers drive these trucks because they feel sort of invincible in them. Like they know they couldn't hold up in a fistfight but they'd give anyone hell in their truck. I truly cannot figure out why some of these old dudes have these big trucks. If you can't park it or back it up, you should NOT be behind the wheel.
Seriously, most of these old dudes CANNOT park these big trucks. A lot of them just give up and go park in the City parking lot across the street. Some manage to get out of the way, but they take up 2 or even 3 spots to do it. Some don't even try to get it between the lines they just pull it any old place and stop. 
Now my parking lot is rather small I will admit, but I'd venture to say if you had 7 full-size pick-up trucks that needed to park in my lot, they would all fit if the driver knew how to properly park. Unless they were all dualies, then maybe not. Sure, it would take a bit of finagling, but a practiced driver would be able to do it. Fortunately, I've never had to prove this to anyone because we've never had an occasion where we've had more than 3 of these vehicles at a time and almost always, 2 of them will park across the street.
Here's an example of how to properly park an oversized vehicle. Take notes if you must: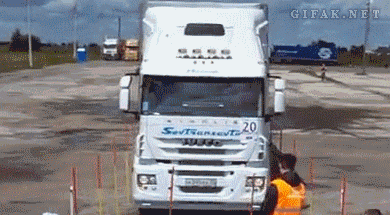 So, tell me, why do the old guys love these trucks? Wouldn't they be better served in a smaller luxury sedan that they could easily maneuver. It can't be a comfort issue because cars and trucks offer the same amenities nowadays with regard to cabin comfort. I know I'd feel safer if these old guys weren't trying to negotiate my parking lot in a vehicle they obviously are having difficulty maneuvering.
Word of the Day: Zeugma
Fun Fact about me: I get a real kick out of spying on my guests before they come into the house. Parking, unpacking ceremonies (and believe me some of these people are almost ritualistic in their removal of luggage from their cars), figuring out which door to use. It all amuses me.
Original post by Jansen Schmidt, August 2020. Images by D. Rhorick, Pexels, Google and giphy.com
Stay connected with news about my books and other fun stuff by signing up for my newsletter: http://bit.ly/JansenSchmidtNewsletter
On Hallowed Ground is available at fine retailers everywhere: http://bit.ly/2KONmnf
On Common Ground is available at fine retailers everywhere: http://bit.ly/2BBu7bb