Today is Monday, November 2nd, which means . . . it's National Plan Your Epitaph Day! Say what? I know, right? It's a real thing. An entire day set aside to plan your own epitaph. Kind of morbid but I guess it makes sense if you think about it. I mean, you never know what a relative or friend might put on your tombstone once you're gone, right? Or, worse yet, they put nothing there!  Egads! The horrors!!!
Research suggests that Lance Hardie is the creator of Plan Your Epitaph Day. He is the author of How to Write Your Own Epitaph — and Live Long Enough to Enjoy It. It was established November 2 to coincide with the Day of the Dead. Makes sense. But, I also found a lot of references to this day being celebrated on April 6th. You decide.
Because I'm not one to dwell on the negative side of life (and epitaphs would fall under that category for me), I'm going to share with you some very funny epitaphs I came across whilst researching this craziness.
A few folks have left recipes on their headstones (ala "over my dead body" being the only way someone would get their recipe). One lady had small print engraved at the bottom of her headstone that read, "If you can read this, you're standing on my boobs." That'll make you step back for sure won't it?
Andrew Olszak (1895-1979), lived a good long life, yet his tombstone reads: "Abandoned in old age by wife and children, may God be more understanding and merciful."
Goodness, I'm wondering if old Andrew was a difficult man to live with while alive or if he just wanted to stick it to his family after his passing by engraving his disappointment in them on his tombstone. Makes you wonder doesn't it? Although, he might be on to something. Hmmm.
Well known comedian Rodney Dangerfield wanted to "leave 'em laughing," so he had "there's goes the neighborhood" engraved on his tombstone.
It's not an uncommon practice to include the cause of death on one's tombstone, but this one is quite specific. And, um . . . unusual.
I have no idea what was going on there, but way to go George Spencer!!
Robert Clay Allison (1840-1887), one of the most accomplished gunslingers in the Old West, killed his fair share of people. According to his friends, though, Allison was a gentleman. His tombstone justifies his lifestyle.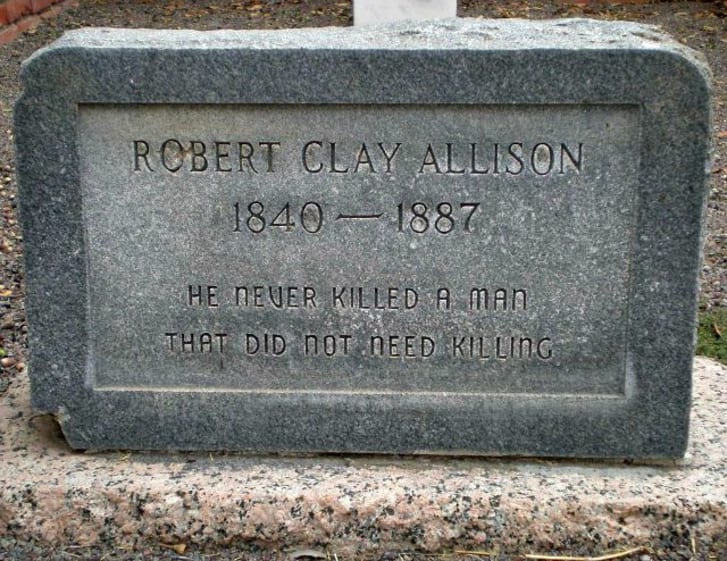 I like that one. I might use it on mine.
Russell Larson was a cowboy and a ladies' man. His tombstone is a permanent reminder of just exactly what kind of man he was.
Some people like to get the last laugh, and apparently the last word. Mary Dolencie of Whaling Port was a disgruntled cat lady who sealed the fate of her enemies with a curse upon her tombstone. Here's how it reads: "May eternal damnation be upon those in Whaling Port, who without knowing me have maliciously vilified me. May the curse of God be upon them and theirs." Well, take that Whaling Port! Ha!
Walter Stauffen's family had quite the sense of humor no? I wish I'd known good old Uncle Walter.
John Yeast's stone simply states: "Pardon me for not rising." I don't care who you are, that's funny right there.
Cecil O'Dell Eads (1934-1993) had this interesting little ditty inscribed upon his marble headstone: "My brother was good at pissing people off." Well, I don't know about you, but I'm curious.
Fran Thatcher's (1945-2006) headstone says simply: "Damn it's dark down here." Nuff said.
This one is simple but to the point: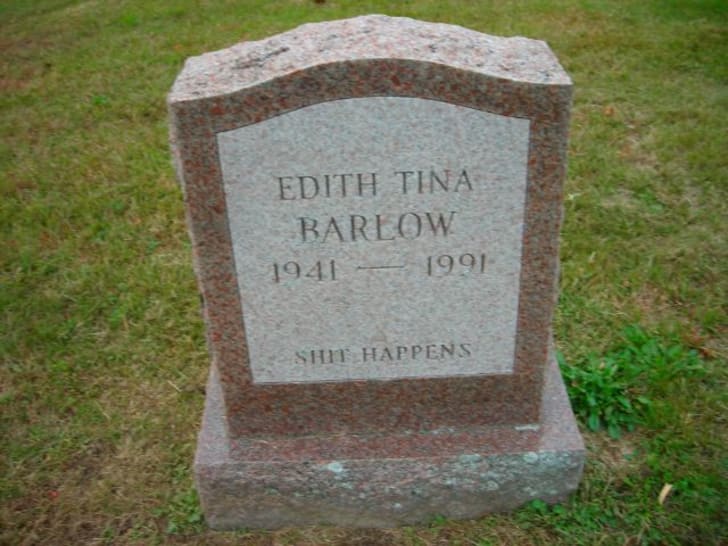 Legendary talk show host Merv Griffin wrote his own epitaph before his death. "I told you I was sick," was a favorite but, he chose "I will not be right back after this message" instead. Bravo Merv! Bravo!
This one looks like one you'd see at the Haunted Mansion graveyard at Disney World:
So tell me readers, would you write your own epitaph? What would you say? Clever? Witty? Sad? Personally, I'm going to work on my epitaph curse, because that's clever, witty, and sad all at the same time.
Word of the Day: Jejune
Fun fact about me: I enjoy reading epitaphs when I visit cemeteries.
Original post by Jansen Schmidt, October 2020. Images by Google
Stay connected with news about my books and other fun stuff by signing up for my newsletter: http://bit.ly/JansenSchmidtNewsletter
On Common Ground is available at fine retailers everywhere: http://bit.ly/2BBu7bb
On Hallowed Ground is available at fine retailers everywhere: http://bit.ly/2KONmnf